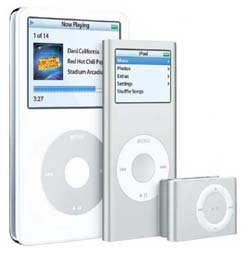 If you are a Mac user then you have probably heard of the many alarm clock applications for the Mac that wake your Mac up by playing iTunes songs. Apparently, Apple snuck an alarm clock into the iPods. To access it:
Go to the iPod's main screen, choose Extras.
In the Extras menu, choose Clock. Once you get to the Clock menu, choose the country that you live in and a city (you live nearby).
Once you have your city and time set up, click on the clock that shows your city.
A new menu will show up saying: Alarm Clock, Change City, Daylight Savings Time, Delete This Clock, and Sleep Timer. Select Alarm Clock from this menu.
In the Alarm Clock menu, turn the Alarm on and select the Time menu to set the time to wake up.
If you made playlists for your iPod, then you can select a playlist from the Sound menu.
This alarm will run each day, so turn the alarm off for when you don't need it on.