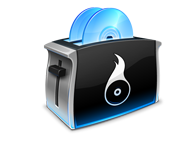 Last year I purchased Roxio Toast because I needed a customized DVD burning software for my family video project. What drew me to Toast, was the ability to fit more onto a DVD disc without sacrificing quality. After spending more time with it, I have come up with several helpful ways to use Toast to its full potential.
Importing DVD's For Use With iPod or iMovie
To import DVD's into Toast, go to the Convert menu (AppleTV/iPhone icon).
Once, you have inserted the DVD of your choice, choose how you want to export it.
Located in the bottom left corner is a small gear icon which shows you the export options.
If you want to export the DVD for use on your iPod or iPhone, select the corresponding name under the Device drop-down.
If you want to export the DVD for use in iMovie, select "DV" from the Device drop-down menu.
Burning An iMovie Project Without Using iDVD
One of the key problems with iMovie is that you have to go through iDVD to burn your iMovie project onto a DVD. With Toast, you just drag your iMovie project and it takes care of the rest.
To start, locate your iMovie project in Finder.
Then, drag it into the DVD-Video section under the Video menu.
If you wish to add a menu-style you can, but you don't have to because the disc will automatically start playing the movie.
Now, click the Record button.
Adding Flare To Movie DVD's With Menu Styles
If you are making a DVD with several movies on it, you might want to consider using menu styles to visually organize the movies.
In your Toast project, choose the menu style you want by going to the Menu Style drop-down menu in Options sidebar.
Once, you have selected a style, feel free to edit the settings for that style by clicking on the More button in the Options sidebar.
A window will appear with three tabs: Disc, Menus, and Encoding. Choose Menus.
In the Menus window, you can add a title, edit the font colors, change the number of buttons, and so on.
Creating A Photo Disc For PC and Mac Users
Toast makes it very easy to create a PC and Mac compatible photo disc because it uses Mac OS X drag-and-drop technology.
Simply just drag pictures from iPhoto, Lightroom, or where ever your photo library is into Toast's Photo Disc section under the Data menu.
When you are all set, click the big red Record button and soon enough all of your pictures will have been burned onto a DVD or CD.
If you insert the photo disc into your computer, you will get a few neat options: Slideshow, Add to iPhoto (for Mac users), and Photos (folder).