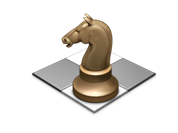 The game of chess can be quite a boring game when played on the usual board, but not when played on a Mac. When you play the Chess game included on all Macs, you'd be quite surprised at how enjoyable your computer will make the game seem. The cool thing about playing chess on your Mac is you have the ability to control each one of your players just by using your voice. You can change which board you play on as well. Here's how:
Load up Chess from your Applications folder.
Once it loads, you should notice a small silver circle appear with "Esc" in the center.
To move a player, you simply hold down the Esc button and say something like "Pawn A2 to A3".
Although that sounds simple, you should have a basic understanding of the game itself beforehand.
If you'd like to change the looks of your chessboard, hold down the ⌘ (Command) and the "," keys to activate the preferences.
From there, choose one of the Board styles: Wood, Metal, Marble, or Glass.
Likewise, you can do the same with board pieces.