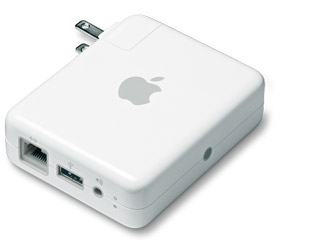 A few weeks ago, I purchased an Airport Express at the local Apple Store. I wanted the ability to print to my Epson R320 wirelessly from any Mac. The setup was incredibly easy as with most Apple products:
Connect the ethernet cable (from the wall) and the USB printer cable into the AirPort Express.
After that, load up AirPort Setup Assistant in Applications >Utilities.
Once the window shows up, click on continue.
Then click on Setup A New AirPort Base Station.
Make settings for your AirPort Express and that's it.
To edit the settings later, open up the AirPort Admin Utility in Applications >Utilities.
The picture quality was very good considering that it's wireless printing.