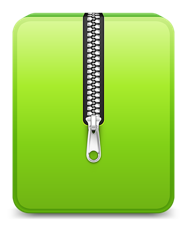 A Nice feature that is conveniently built in with Mac OS X is the Archive feature. It allows you to compress files to reasonable sizes that are more manageable. If you deal with lots of archives and prefer to keep your Mac as organized as possible, you may be glad to hear that you can change the Archive preferences.
Open Finder
Go to Macintosh HD > System > Library > CoreServices
In CoreServices, right-click on Archive Utility and select Show Package Contents.
In Contents > Resources, locate Archives.prefPane
Double-click on the file and you will be prompted to install it in System Preferences.
In System Preferences, click on Archives.
The "Save expanded files" field affects the files in the archive you open up.
The "After expanding" field allows you to choose a location to put the archive after it expands.
The other options should be left with their default settings, unless you want to change them.
If you don't want to keep it System Preferences, just follow steps 1-3 (excluding Show Package Contents) and open up the Archive Utility. From there, go the Archive Utility menu > Preferences.