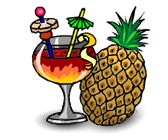 One of the reasons why I purchased an iPod touch was for the ability to watch movies. The screen was much bigger on the iPod touch making it a lot easier to view a full-length movie. I have many movies on my computer as well as a large DVD collection, all of which I wanted to somehow get onto my iPod touch. Thanks to a wonderful app called Handbrake, I can now easily convert DVD's and other movies on my computer to use on my iPod touch. Not only does Handbrake convert DVD's to the iPod format, but it also converts to PSP, Xbox 360, AppleTV, iPhone, and for use on your computer. Here's how:
Download the Handbrake application if you have not already done so.
Insert a DVD into your computer or locate the movie on your computer you would like to convert.
Open up Handbrake and select the movie.
It will scan the movie and then show the information about the movie concerning the time, chapters, and titles.
If you are using a TV series DVD (e.g. Seinfeld) you have to be very careful about how to select the titles because there are multiple episodes on each disc.
In this situation, select the title number from the "Title" menu, change the name of the file name under "Destination" to correspond with that title number (e.g. "Users/Mason/Desktop/Movies/Seinfeld Episode 1" for Title 1, etc). Then, you must click "Add to Queue" after each time you change the name and title.
Usually, there are out-takes, extras, or what not towards the end of most TV series DVD's. Make sure don't select those if you don't want them.
To make sure you are selecting the right title numbers, just look at the time of the title (usually short times) and if you still aren't sure, click the "Picture Settings" button and it will show you snapshots of that title.
Click the "Next" button in the bottom right corner in the Picture Settings window and you can browse through the scene to double-check if it's the scene you wanted.
After you have added all the correct titles and corresponding file names to the queue, select the "Toggle Presets" button and choose the format you want to convert the video to.
For example, I would choose Apple > iPhone & iPod touch if I wanted to use the video on my iPod touch.
Once you're done with that. click "Show Queue" then click "Start".
The biggest trick is to make sure you are always choosing the right titles and then adding them to the queue with the right file name in sequential order.
Movies that already on your computer are ready to convert once you're in Handbrake: just choose a format (iPod, PSP, etc), a destination for the converted movie to go, and then click Start.