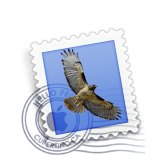 One problem many Mac users have been noticing lately is the bug Mac OS X 10.5 that does not include attachments when you save Mail messages as RTF. Thanks to Andreas Amann, this bug can be easily remedied with his AppleScript package for Mac OS X Mail. Here is how to export a message to RTF and include attachments:
First download the AppleScripts from Amann's site.
To install it, just double click on "MailScripts Installer" in the MailScripts.dmg.
Next, go to Mac OS X Mail and locate the messages you want to export.
If you want to export specific messages instead of all of them, make a mailbox called "RTF"
Right-click on the messages you want to export and choose "Copy To" > RTF.
In the menubar look for the AppleScript icon next to the Volume icon.
In list of AppleScripts that appear, all we care about is "Mail Scripts".
Inside of "Mail Scripts", choose "Archive Messages…".
Now, select the mailbox RTF.
In the "Selection Criteria" window, make sure you pick "Rich Text Format" and "Include Attachments" under "Export Format".
After making any other changes, click OK and the mail message will appear on your Desktop (or elsewhere depending on where you chose to export it) in RTF format with all attachments included.
Once you're finished exporting, you may want to remove the messages (which are copies of the originals, so they're safe to delete) from the RTF mailbox so they won't get exported again for the next time.