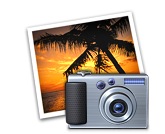 With the iLife suite packaged with your Mac, your creativity just keeps going. One of my favorite applications in the iLife suite is iPhoto. It's so easy to manage all of my photos with the nice interface of iPhoto. Instead of shelling out for a photo program like Aperture or Lightroom, I have found a neat trick inside of iPhoto that hides everything on the screen except your photo and allows you to compare and edit photos inside this sort of "darkroom-like" backdrop.
Open up iPhoto from your Applications folder or from your dock.
Once you're in iPhoto, click on the icon beneath the "Rotate" button that shows a square in the middle with arrows on each corner.
Now you have entered the full screen mode in iPhoto.
If you would like the thumbnails to show, just go to View > Show Thumbnails.
If you would like the toolbar to show, just go to View > Show Toolbar.