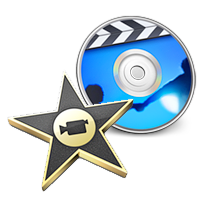 Recently, I was making a video in iMovie with pictures and titles. I prefer iMovie instead of iDVD when I need to add titles and Ken Burns effects. The only problem that I was faced with was to make the iMovie project work on a DVD. There is no visible way to do this, but with a few work-arounds anything is possible. Here's how:
With your project opened in iMovie, go to the Share menu and choose Media Browser.
In the window that appears, select "Large" so it will be displayed at its best quality.
When the movie has been uploaded to the Media Browser, open up iDVD.
In the pop-up window that appears, click on "Create a New Project".
Enter a name and save the iDVD project to a location.
Once your in iDVD, click on the "Media" button in the bottom right corner of the window.
Click on the "Movies" tab at the top and select your movie project under the iMovie section.
When you're sure that you have everything ready, insert a blank DVD-R disc and choose "Burn DVD" from the File menu.
Done! That wasn't too hard was it?