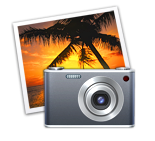 I'm sure many users have noticed .Mac's new web gallery feature. As neat as it looks, it's quite easy to create your own custom galleries right within iPhoto. Here's how:
Open up iPhoto from your dock or your Applications folder.
Select an album or several pictures for which you want to be in the gallery.
Go to the File menu and choose Export.
In the Export Photos window, go to the Web Page section.
Add a title and change the layout settings for the page(s).
When you're all set, click on the "Export" button and choose a location to save the pictures to.
Then upload the "index.html" file, the "Images" folder, the "Resources" folder, the "Pages" folder, and the "Thumbnails" folder using an FTP program (Cyberduck).
To see an example of what the gallery looks like, click here for a screenshot.