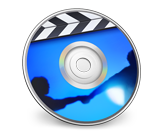 On occasion, I will make a DVD for my family and friends with pictures from past holidays and trips that were taken. Of course, I make my DVD's in iDVD because it's a joy to use for making those wonderful last-minute gifts. The one thing that tends to bug me is that Apple icon that appears in the bottom right corner on the DVD. My goal in making the DVD is to make it seem like I made it from scratch. That's why I don't like having the Apple logo in the DVD. Surprisingly, it's fairly simple to fix this. Here's how:
Open up iDVD from your Applications folder in Finder.
Select Create a New Project or Open an Existing Project (if you've already made the DVD) from the iDVD start-up window.
Once you choose a location to save the project to, go to Preferences under the iDVD menu.
In the preferences window that comes up, make sure you're in the General tab.
Check off "Show Apple logo watermark" and it won't appear anymore in your DVD's.