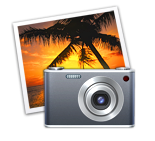 A few weeks ago, Apple released its newest version of the iLife suite. Every time they come out with a new one, there are always nice "to-haves" that are included. With the new version of iPhoto a few new features include: new templates, viewing photo information, user-friendly print settings, and Events. Since the Events feature seems to be one of the most powerful ones, I'll teach you more on how to get the full potential out of it.
Adding A Nice Reflection To The Photos In The Events Section
With iPhoto open, go to Preferences under the iPhoto menu.
Once you're in the Preferences window, click on the "Events" section.
You should notice an option labeled "Show Event reflections", check it off.
Drag And Drop The Event Photos
With any photo you see in the Events section, click and drag the photo into another location in the Events area.
screenshots: Before Dragging After Dropping
Editing Names
Select a photo in Events of your choice.
Now click on its title.
Type in a new title.
screenshots: 1-3
Browsing Through A Selection
With a few seconds you can rapidly browse through all of the photos in an album.
To do so, just hover your mouse pointer over any of the photos in Events.
Now use your arrow keys (← →) and you should be able to browse through that album.
screenshots: 2-3
Merging Events
Lets say you took some pictures at different times, but they were pretty much of the same thing. Thankfully, with the Merge feature you can now put similar events together in iPhoto.
Locate the Events that you want to be merged. To select multiple events, hold down the Shift key or the ⌘ (Command) key.
Now click on the "Merge" button on the bottom toolbar of the Event window.
Now the Events will be put together as one.
screenshots: 2-3
Making Key Photos For Events
As you may have noticed each event shows a "key photo", the main photo that you see on the event itself.
If you would like to change this, hover your mouse pointer over an event and use the arrow keys (← →) and when you find a photo you like, right-click on it and choose "Make Key Photo" from the contextual menu.
screenshots: 2