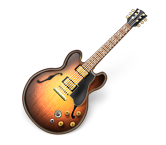 In iLife '08, Apple added lots of neat templates, sounds, and other useful features that come in handy. From experimenting with most of the iLife apps, I must say Magic GarageBand is one of my favorites. For the average user, GarageBand can be a hard program to start off with due to its very detailed interface. Thankfully, with GarageBand '08 you can now use GarageBand to make very basic songs with the Magic GarageBand feature. Here's how:
Open up GarageBand.
In the startup window that appears, choose "Magic GarageBand" from the list.
When Magic GarageBand opens up, you should see a row of themes on the bottom of the window.
To hear an example of what each sounds like, click on a theme and click the play button. I recommend changing the slider to "Entire Song", that way you can get a better idea of what it will sound like in general.
Once you're done with that, click on the "Audition" button in the bottom right corner of the window.
In the Audition window, you should see what looks like a real stage and instruments.
While the song is playing, feel free to swap out the instruments, by clicking on an instrument on the stage and changing it to one that appears in the row of icons corresponding to that instrument.
If you aren't quite ready and want to experiment more with the other genres, click on the "Change Genre" button on the left corner of the window.
Once you feel comfortable with the song, click on the "Create Project" button on the right hand corner of the window.
GarageBand will open with its normal view and there, you can edit your song with more advanced settings to make it sound "professional". If you are done and don't want to mess with it anymore, then quit GarageBand and the song is saved automatically.
To access the song you just made, browse to the "Music" folder in Finder.
From there, click on the "GarageBand" folder and it should be in there.