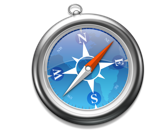 Safari 3.0 adds many helpful features to make for more efficient web browsing on the Mac. Besides the more obvious changes to Safari like the look and feel of it, there are more unnoticeable changes like these:
Drag And Drop File Uploads
Have you ever visited a website with a "Choose File" button where you have to navigate until you locate the file you want to upload? Now, Safari makes that whole upload process a breeze.
With Safari open, go to a website with an upload page, such as ImageShack.
Now, drag and drop any file on your computer onto the "Choose File" button.
It should then appear beside the "Choose File" button.
Dashboard Web Clips
Although this may seem like a unnecessary feature, you'd be surprised at how many times Web Clips will come in handy. For instance, as often as Digg.com gets updated with news, it can be almost obsessive to want to refresh your browser every 2 minutes. Thanks to Web Clips, no more "obsessive compulsiveness" with the refresh button.
Go to any site in Safari such as Digg.
Go to the File > Open in Dashboard.
The screen should dark out everything except the selected area.
Just hover your mouse over any part of the site, and it will automatically estimate the area you want. Click on the white square after you have it where you want it and drag the corners to your liking.
After you are satisfied with your Web Clip selection, click on the "Add" button in the purple bar that appears underneath your bookmarks bar.
After you click the "Add" button, Dashboard will open up with the Web Clip you just made.
To change how the widget itself looks (the border design), click on the small "i" icon on the bottom right hand corner of the widget.
Change your theme to any one of the 6 that there are.
Now you've made your first Web Clip!
Bookmark Multiple Tabs
In previous versions of Safari, you would have to save bookmarks to a folder and enable "Auto-click" to open all the bookmarks at one time. Now, it's much easier to group a bunch of websites into one bookmark.
With several sites open in Safari, click on the Bookmarks > Add Bookmark For These (# of) Tabs.
Now a bookmark should appear in your bookmarks bar. When you click on it, all of sites you just bookmarked will open in separate tabs.
Restoring Sessions
Whenever I've browsed multiple, sites I get carried away sometimes with the close window hotkey (⌘ (Command) + "W") and end up closing Safari by accident. This can become a huge annoyance as you would imagine. Other browsers like Firefox and Camino have had the ability to restore previous windows, but for some reason up until Safari 3.0 you didn't have an option for that.
Open a bunch of sites in Safari.
Close them all or quit Safari.
Open up Safari (if you quit it) and go to the History > Reopen All Windows From Last Session.
If you closed just one window, follow the same steps, except in the History menu go to Reopen Last Closed Window.
screenshots: Click here for a screenshot
SnapBack To Another Webpage
Have you ever been on one website and clicked on a link that directed you far beyond from where you just were? Well, before you know it, that site you started off on, has "bit the dust". To prevent that from happening, just enable SnapBack on a webpage, then you won't be so frustrated when you get directed to another site.
With any page open in Safari, go to the History > Mark Page for SnapBack.
Click on another link within the page you were just on.
Now, you may notice a small orange circled arrow icon in your address bar.
Click on that orange icon to get back to the main site that you marked for SnapBack.