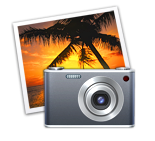 With the new iPhoto '08, creating holiday cards couldn't have been any easier. With very affordable price ranges and tons of themes to choose from, you can't go wrong with iPhoto. In the past couple of years, family members have been amazed by the quality look of these cards. For those of you need help making a holiday card this season, here's how:
Open up iPhoto from your dock or your Applications folder.
Once it's open select the "Card" button on the bottom on the iPhoto window.
A drop-down menu should appear with a bunch of themes.
Choose an appropriate theme for the season and click the "Choose" button.
Drag and drop pictures from your iPhoto library onto the card in the sidebar.
Switch back to the holiday card by selecting it from the sidebar.
You should now notice all of the pictures you have imported will show up.
Once again, just drag them into the area on the card that you wish.
If you need to change the layout of the picture, just click on the image in the card and a resize pop-up box will come up.
Drag the slider until the image fits the area on the card.
If you would like to change how your card looks, use the Orientation, Design, Background, and Settings buttons.

The Orientation menu allows you to choose horizontal or a vertical layout for your card.
The Design menu allows you to change the overall layout of the image boxes.
The Background menu allows you to change the background color of the image boxes as well as the text color.
The Settings menu allows you to change the text style for the card.

To change the font color, highlight an area of text and right-click on it. Go to Font > Show Colors and choose a color there. If you need more help, read my article on how to change colors of text.

Once you're done with the changes, click on the "Buy Card" button in the bottom right corner of the window.
After it's done updating the product info, a window will come up with order settings. Login in with your Apple account then you can change the quantity of cards you want and how you want it to be shipped. Click "Buy Now" when you're ready.
That's it. You've now successfully made your first holiday card in iPhoto.