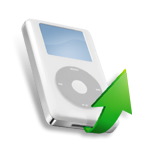 Although Apple made the iPod so user-friendly, they seem to have forgotten that we may want to transfer music from our iPod to our computer. When you plug in your iPod to your Mac, and click on the iPod in Finder, you should see 4 folders: Calendars, Contacts, Notes, Photos. Notice, that there is no Music folder there. To magically get the music from the hidden Music folder on your Mac, download Senuti.
Load up Senuti with your iPod connected to your Mac.
Select the songs you want to copy over to your Mac.
In Senuti, click on the Copy button.
After importing, move on over to iTunes.
In iTunes go to File > Add To Library.
After clicking on Add to Library and Finder window should appear. Select the Music folder and your iPod's songs will be imported into your iTunes library.
Do not play any of the songs in iTunes during the import or it may cause iTunes to not respond.
Once done importing, all of your music should be in your iTunes library.