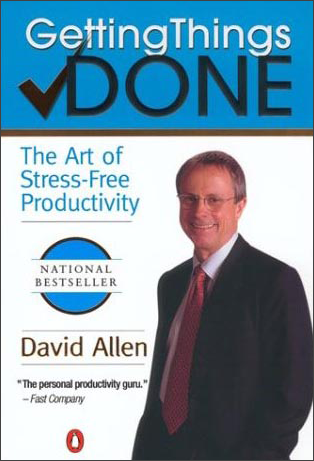 David Allen's book, titled "Getting Things Done," is a very well-written book that teaches you how to use the GTD system to become a more productive individual. To start off, I'll just explain the very basics of GTD that I've tweaked and used on daily basis with my workflow.
How To Incorporate GTD Into Your Workflow
Organize specific categories to place each task into: Inbox, Current Projects, Next Actions, etc.
If you know it will take less than 2 minutes, go ahead and get it over with. If it will take longer, delegate it with a due date.
Organize your email into categorized folders (Archives, Family, Due Next Week, Bills, Other, etc.)
When you use something put it back to its original spot, that way nothing gets out of place.
Other Tips To Help You With GTD
Keep a pad of Post-it's™ and pen with you. This way you can jot down a quick idea or something and you won't forget it. Personally, I use this when I find new features about applications that I want to go back to later.
Throw away a magazine after you read it, there's no reason to keep it — otherwise, scan the magazine article.
Keep your desk area neat.
Scan paper documents onto your computer, so you won't lose them and to conserve desk space.
Make a list of goals you want to complete by the end of the week/month/year.
I hope this helps you understand the basics of David Allen's GTD system. I recommend you buy his book and read through it to truly understand all that his system has to offer.