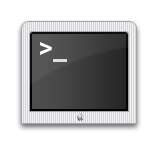 As I was watching an episode of MacBreak, I was amazed at how Terminal's window was black with green text. I know how geeky these colors are, but somehow they really look good when put together. To make your Terminal window colors look like this or even another color:
Go to Applications > Utilities > Terminal.
Once in Terminal, go to Terminal > Window Settings…
Then, a window will pop-up called Terminal Inspector.
In the first drop-down menu, click on Color.
If you want to take the shortcut, go to the Custom drop down menu and choose green on black.
Now, if you are satisfied with that, then that's fine, but I think that Terminal looks much better when transparent.
On the bottom of this Terminal Inspector window, you'll see Transparency with a scroll lever.
Choose how transparent you want Terminal to look, I put it a little over the fifth little hash mark.
To keep these settings, make sure to click Use Settings as Defaults.